This seems timely what with today's Telegraph article announcing that the UK's savers had £36billion stolen from them by the stealth tax known as inflation last year by the UK governments zero % interest rate policy producing negative real returns from savings. Back in December 2009 we were urging UK savers to dump ISA's and Buy Gold instead.
If you had done that immediately, there and then at £730 per Oz, today that would be £940ish per Oz, a gain of 28.7% in 18 months. Instead, the average savers in the UK have seen losses in the order of approximately 5% of the buying power of their savings over that period, even if you use the Governments skewed statistics, in reality is is almost certainly much more than that.
Overall, the average return people are getting on their money is just 1.6pc, well down on inflation as measured by the Retail Prices Index, which was running at 5.2pc in April, the latest month for which figures are available. - The Telegraph
First watch the video to your right expaining how this affects all paper currencies, and then here's the bigger picture from one of our favourite analysts who has been just bang on with his work and calls since we first discovered him in 2008, Nadeem Walayat who runs The Market Oracle
Stealth Theft of Wealth by Means of Low Interest Rates and High Inflation Continues
By: Nadeem_Walayat

The Bank of England left UK interest rates on hold at 0.5% (for 2 years and 3 months) which compares against an official CPI inflation rate of 4.5% that illustrates the continuing UK government policy (regardless of which party is in power) for the stealth theft of wealth from workers and savers so as to funnel cash onto the balance sheets of bankrupt banks and for the financing of government deficit spending (buying of votes).

UK Interest Rate Forecast 2011

The mainstream financial press continues to flip flop on its expectations for the prospects for UK interest rates virtually every other week. In March, the mainstream financial press had collectively convinced themselves that a May rate rise was virtually a done deal, then having failed to materialise the press flopped to expect no rate rise for the remainder of the year, then in mid May after hearing Mervyn Kings comments on Inflation fears flipped once more towards a June rate rise.

The recent (March 2011) 85 page Interest Mega-Trend Ebook (FREE DOWNLOAD), concluded in expectations for 1 or 2 token UK rate hikes with the first rate rise expected to occur in June / July 2011, and longer term expectations for UK interest rates to hit a minimum of 4.5% by the end of 2014.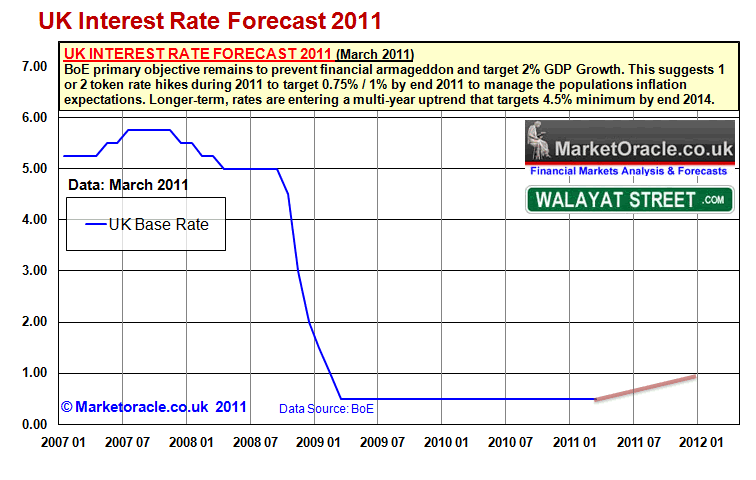 The Stealth Theft of Wealth Continues

Since the Bank of England cut UK interest rates to 0.5% and began printing money (Quantitative Easing) in March 2009, UK consumer prices have been inflated by 9% (CPI), whilst at the same time average earnings have risen by less than 7%, therefore workers earnings purchasing power has fallen by 2% against CPI and 4% against RPI, and much more after allowing for tax rises and benefit cuts that average an additional 5% with a further loss of earnings purchasing power of between 15% and 20% over the next 2 years that represents an unprecedented loss of real disposable income not witnessed since the Second World War.

This stealth theft of purchasing power of wages has been effectively masked from the public who are increasingly experiencing the real pain of not being able to maintain their standards of living without triggering the anger of public demonstrations such as those that take place near weekly in Greece against pay cuts as Greece being part of the Euro-zone is unable to print money and inflate but rather wait for the German bankster's to make loans available to finance the Greek government deficit in exchange for the asset stripping of Greece in lieu of debt that they are not being allowed to default upon.

The workers of Britain are in the exact same boat as the workers of Greece, it's just that for the Greeks the theft is far more obvious since they actually see their pay being cut, whereas in Britain the theft is executed stealthily, slyly by the masters of economic propaganda such as Mervyn King uttering soothing phrases every now and then of temporarily high inflation that the mainstream press and academic economists (vested interests) lap up and regurgitate at length so as to manage the populations inflation expectations.

The stealth theft of wealth also continues for savers where even the best current instant access savings account paying 3% is still resulting in a loss of life time accumulated wealth to a value of 2.1% per year (after basic income tax). For savers to just break even they would need to be in receipt of savings rates of at least 5.4%.

For 50 pages of wealth protection strategies see the 100 page Inflation Mega-Trend ebook (FREE DOWNLOAD).

UK Inflation Forecast 2011

The updated in-depth analysis and forecast for UK inflation for 2011 (17 Jan 2011 - UK Inflation Forecast 2011, Imminent Spike to Above CPI 4%, RPI 6% ) concluded in UK inflation spiking to a high of 4.2% early 2011, and thereafter trend lower towards 3% by the end of 2011 and therefore remaining above the Bank of England's 3% upper limit for the whole of 2011. The May Bank of England Inflation Report revised UK CPI forecast to 4% by the end of 2011 which represents a sizable jump from the preceding report of 1.7% by the end of 2011.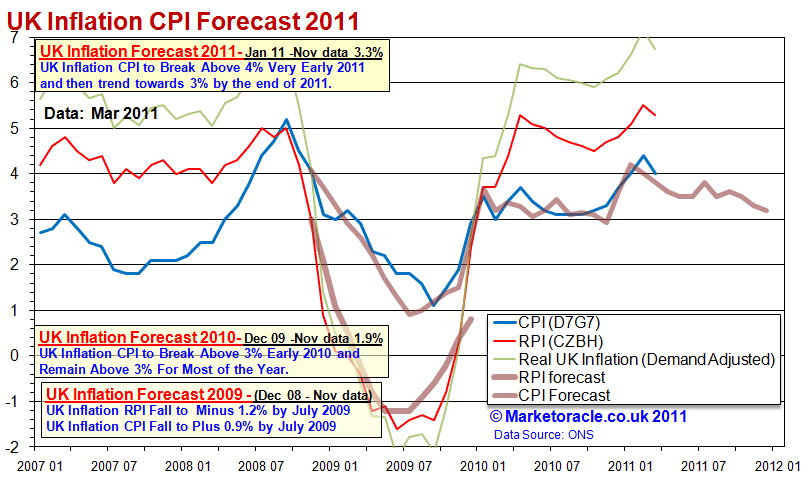 Clearly the ONLY thing the Bank of England fears is the workers of Britain seeing through the economic propaganda and seeing the reality of what INFLATION is doing to them. THAT is the ONLY thing the Bank of England fears at this point in time (well apart from another banking sector induced financial armageddon) the workers of Britain starting to demand PAY rises that MATCH INFLATION AND TAX RISES (wage price spiral).

In which respect it is only a question of WHEN rather than IF the people of Britain will wake up from the stealth inflation theft matrix!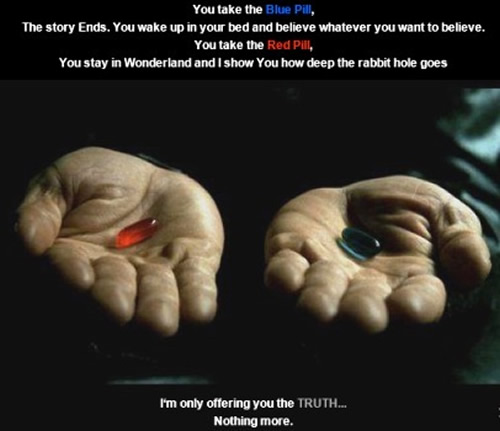 Source and Comments: http://www.marketoracle.co.uk/Article28593.html

By Nadeem Walayat
BuyGoldSilver.org say:
This is not over yet, not by a LONG way, in fact its still really only just getting started. You can still protect your wealth with Gold, or you can check in again in another 18 months and wish you had done it now. Tick, tock, tick, tock…