Last week we ran a piece from Clive Maund – CliveMaund.com which was popular, predicting that the Gold and Silver correction was about to reverse, based on technicals.
It did reverse, although there are obviously other factors at work as well, and we think he nails it bang on again with this week's piece, but get in quick, both Gold & Silver could head off skyward again any time.
With geo-political events now dominating world news and the US' status in the middle east deteriorating almost hourly with the fall of regime after puppet regime to inflation and hunger, the insolvent and collapsing-all-around-us banks and European countries are forgotten, temporarily at least, however we have that distinct feeling in the bones again that something big (and not good) this way comes. ..Over to Clive
Gold & silver Opportunity Before Blast Off!
A rare and exceptional opportunity has just presented itself to enter this Precious Metals bullmarket at very favorable prices for gold, silver and especially for Precious Metals stocks – right at an intermediate bottom. That is what our latest studies indicate.

While gold dropped a little lower last week than expected in the last update, it has arrived in an area of strong support above its rising 200-day moving average in a deeply oversold condition, as we can see on its 8-month chart below. Thus it is interesting to observe that a bullish candlestick pattern, known as a "Piercing Pattern", appeared on its chart on Thursday and Friday, which frequently signifies a reversal.

The downturn in gold and silver has not unnaturally brought bears out of hiding, and they of course are to be found in large numbers near market bottoms. The claim of some of them is that gold has been marking out a bearish Rising Wedge. That is not how it looks to us – instead we see a fine parallel channel with a parallel inner uptrend at which the last upleg halted. This can be seen on our 2-year chart and also how, with gold having just arrived at the lower boundary of this uptrend channel in a deeply oversold condition on its medium-term MACD indicator, we are at the optimum buy spot RIGHT NOW – which explains the aggressive buying on Friday that completed the Piercing Pattern.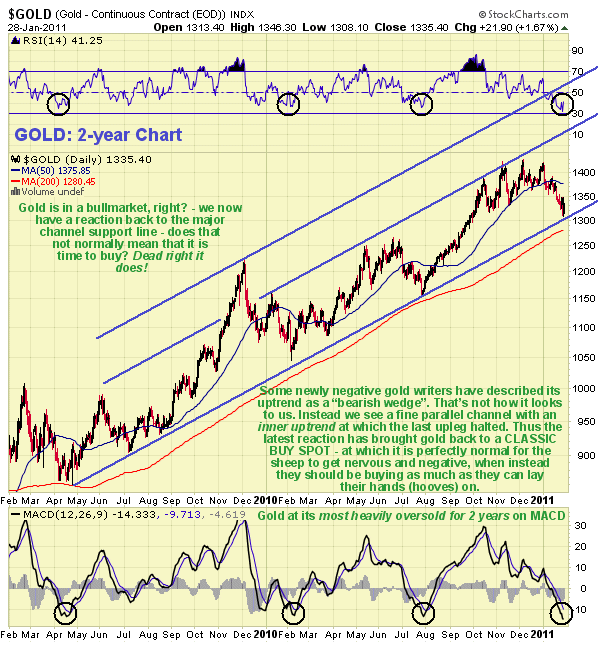 What is laughable about the bears' stance is that in addition to being completely uninfluenced by the realities detailed above, they appear to be totally oblivious to the fact that the gold COT structure is at its most bullish since at least the start of last year. As we can see on the COT chart below, the Commercials' short positions and Large Specs' long positions are at lower levels than existed before the great Fall rally in gold and silver, and in fact are lower than at any time last year. This fact alone points to the imminent birth of a major uptrend.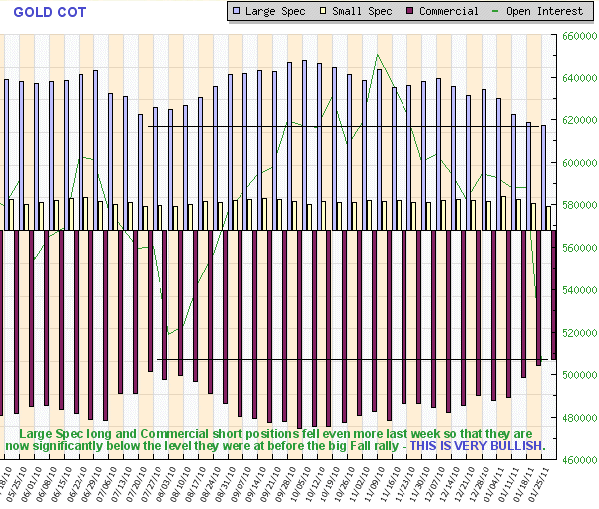 Last weekend`s Silver Market update turned out to be pretty much correct as while silver did drop to new lows for this correction it ended the week with a strong blast of upside energy that is believed to mark a reversal to the upside.

On our 8-month chart we can see that following failure of support at the $28 level, silver worked its way lower but certainly did not collapse and then, after making a new low in the early trade on Friday, it suddenly surged to close at the high for the week, leaving behind a pair of candlesticks on Thursday and Friday that are together known as a "Bullish Engulfing Pattern" and which noramlly signify an upside reversal.

During the week it became clear that there are a lot of buy orders clustered around the $25 level, which is kind of sad really, as Friday's action suggests that it won't drop back to that level and that therefore these would be buyers will be left on the station watching as the train pulls out without them. The breach of the $28 level just over a week ago is thought to have been the handiwork of The Cartel seeking to shake people out the better to cover their shorts – they didn't fool us though as we had this gambit flagged in last week's update. Before leaving this chart a final point to note is that silver is now quite heavily oversold as made clear by the MACD indicator at the bottom of the chart.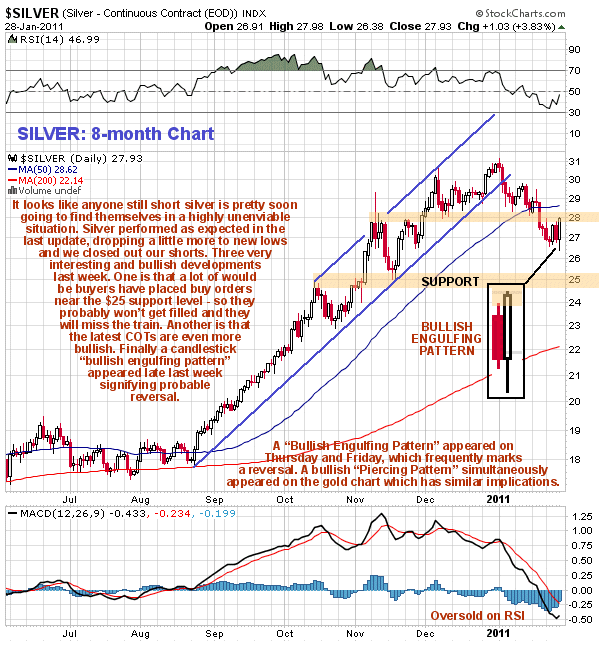 Another important development last week was a further significant reduction in the Commercial short and Large Spec long positions that we can see on our COT chart below, so that they are now well below the levels prevailing last July that preceded the massive Fall rally in silver. What does this mean? – first of all it makes further significant declines in the silver price highly unlikely and secondly it makes another thumping great rally very possible and it is likely to get underway very soon..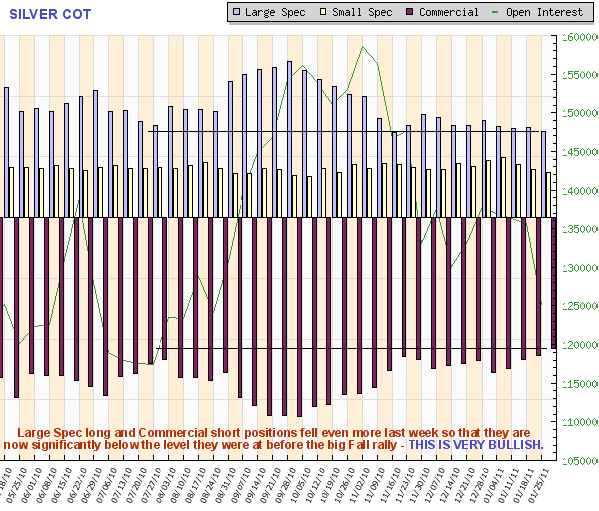 The conclusion to all this is that anyone with a sizeable silver short position is probably going to find themselves in a very unenviable predicament before much longer.

We will end by making an important point. Sometimes people write in asking for me to give exact targets in price and time for gold and silver, or stocks or whatever – they want to know, for example, what price I think gold will be at in 6 months time. We don't work like that. To attempt this kind of precision is to imply that one knows exactly what the future holds – none of us does and those that claim that they do are charlatans.
Successful trading is like life itself – you react and adapt in real time. When you drive your car, you are always ready to react to the unexpected, like a child running out into the road, even if it's your regular commute that you have done for years.

Likewise, the experienced sailor making a trip across the Caribbean in the Summer does not have have a rigid plan – he is always ready to take avoiding action or head for port in the event of a hurricane approaching. So we duck and dive and "roll with the punches", but that doesn't stop us garnering large profits – we held a raft of juniors through the Fall rally some of which racked up huge gains, then seeing the danger at the end of the year, protected our positions with Puts and bear ETFs. Last week we ditched these for a big profit, mentioned as an option in the last Gold Market update. Now we go full long and will only consider taking evasive action in the event of the long-term uptrend channels in gold and the Market Vectors Index shown above failing.

We will close with the highly pertinent and timely observation of a friend in Toronto, who has a somewhat different way with words to the writer, but who nevertheless sums up the great opportunity presented now succinctly…

"Houston, we have BLAST OFF on every freaking thing that morons were selling at 30% discount last few days !!! Come in Houston, Houston are u there?"…
BuyGoldSilver.org say: