From the distinguished Nadeem Walayat – MarketOracle.co.uk
Presented without comment  here, except to say if you still want to Crash JP Morgan after reading this, come back to the top and go here and get your first Oz free.
Crash Silver, Buy JP Morgan and Prevent Financial Armageddon
The "Crash JP Morgan, Buy Silver " internet campaign has been gathering momentum for several months now as individual investors increasingly jump upon the rolling bandwagon by buying a silver coins. The high profile proponents of the campaign include Max Keiser, Mike Maloney and Alex Jones amongst many others. Whilst they are correct in identifying JP Morgan as being the worlds largest a market manipulator that continious to leech the life blood out of the US Economy via the corrupt institution that is the U.S. Federal Reserve Bank that literally makes unlimited funds available at JPMorgans disposal.

However, the crash JP Morgan proponents have not considered the consequences of crashing JP Morgan which would act as a contagion that could bring about the collapse of the worlds global financial system.

JP Morgan IS too big to Bailout

The Crash JP Morgan proponents identify the following reasons with the aim of driving Silver to as high as $500 an ounce.

1 – JP Morgan has a huge short position in Silver – estimated to be 3.3 billion ounces – tied to an enormous, extremely precarious $65 trillion derivatives position.

2 – Various exchanges around the world have been caught manipulating the price of Silver using 'naked' short sales i.e., counterfeiting.

3 – Of all the actively traded commodities traded around the world, Silver is one of the least plentiful and its supply is shrinking, but its industrial uses are multiplying. The 'networked' age of global communications is built with Silver.

4 – Hedge funds are taking physical delivery of Silver – adding substantial demand as well as exposing these exchange's naked short positions – who are already scrambling to deliver – jacking prices up to multi-decade highs – and inspiring these predatory funds to buy more Silver.

5 – There are billions of people around the world who are aware that banks have been committing fraud and embezzlement who are upset that their politicians seem only interested in helping the banks commit more fraud – who are looking for a cheap way to non-aggressively fight back and decapitalize these banks.

6 – Many of these people have the access and wherewithal to purchase 1 ounce of Silver – thus removing hundreds of millions of ounces of Silver from the 'paper' market – forcing additional scrambling by dealers to fill orders by buying back short positions – inspiring the funds to buy and take physical delivery of even more Silver – creating a colossal short squeeze – in which JP Morgan stands to be the biggest loser.

7 – Buying Silver is how the world is monetizing its anger at the banks who stole their wealth.

The crash JP Morgan proponents identify JP Morgan as having some $1.5 trillion in derivatives tied to their silver short position alone, as part of an estimated $70 trillion of derivatives exposure, which is larger than the size of the global economy and 5 times the size of the U.S. Economy. If the financial markets ever thought JP Morgan was at any risk of defaulting on any of its derivatives positions then there would be a run on JP Morgan Lehman's style. Unfortunately to bailout JP Morgan, the cost to prevent a run on the U.S. Financial system that could within hours collapse the whole global financial system would make Novembers QE2 look like chicken feed. The print run would run into the trillions if not the tens of trillions as counter parties to JP Morgan's derivatives panicked.

What would be the consequences of a flood of Perhaps $10 trillion Bailout Dollars ?

Loss of confidence in the U.S. Dollar resulting in a collapse of value triggering an Hyperinflation panic event as dollars were dumped for any commodity or resource so as to prevent purchasing power wipeout, sending interest rates soaring and bringing world trade to an abrupt halt that would risk the collapse of civilisation as we know it today, with financial armageddon eventually resulting in actual real world armageddon much as Europe Experienced Armageddon from September 1939 to 1945, but this time with tens of thousands of hot nukes thrown into the chaos equation.

So yes, Crashing JP Morgan may result in Silver hitting $500, BUT without food, energy and chaos in the streets with a high risk of eventual global nuclear conflict, holders of silver coins may wish they could turn back the clock and instead campaigned for Crash Silver, Buy JP Morgan and Prevent Financial Armageddon!

Current Status of the Crash JP Morgan, Buy Silver Financial Armageddon Campaign

Silver Price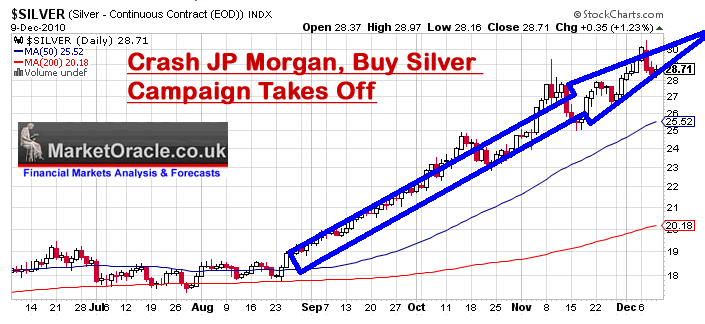 The Silver prices has soared by nearly 60% in 3 months, which means that the of quoted JP Morgan Silver short position of $1.5 trillion would have grown to $2.5 trillion as a consequence of adverse price movement.

JP Morgan Stock Price Implies Silver Short Covering Responsible for Silver Rally

Bank runs, panics, bankruptcies and collapses first manifest themselves in the stock prices, long before they become headline news in the mainstream press.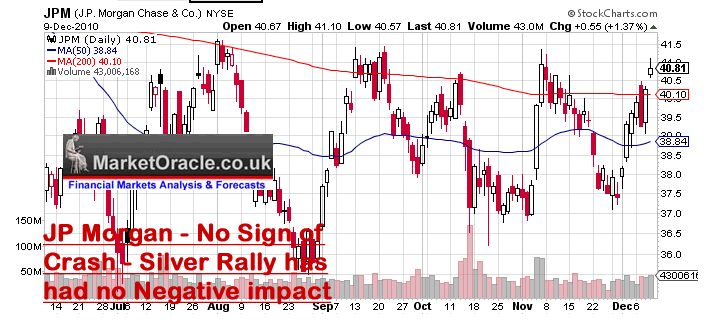 The JP Morgan stock price is NOT behaving as though it were heading for an imminent collapse, in fact for most of the period JPM has FOLLOWED the Silver Price higher, which is not exactly evidence of market distress. The most recent price action is suggestive of a corrective behaviour to unwind the run from September in advance of a continuation of the trend higher.

Silver Price Trend Implications

This to me suggest that the oft quoted JP Morgan silver short position is far smaller than $1.5 trillion, as probably JP Morgan has been covering its silver shorts for many months. In fact the rise over the past 3 months is probably more due to JP Morgan short covering than the impact of the Crash JP Morgan campaign buying. This also suggests that whilst on going short covering should result in an upward trend for silver, however the JPM master market manipulators will also ensure that they periodically hit speculators and hedge funds hard if they try to take advantage of JPM short covering by SELLING silver hard to run the stops.

Silver has always been very volatile, so investors / traders need to be very nimble footed to ensure that they do not give up their gains, as at the end of the day the only thing that counts is banked profits.

Now don't get me wrong, I am not anti the campaign as probably in reality it has only had a marginal impact on the silver price, I am just highlighting the consequences of what actually crashing JP Morgan would probably be, in that JPM would take the global financial system down with it.

And as Charles and Camilla experienced in London last night, NO ONE will escape the consequences of financial armageddon and the breakdown of society.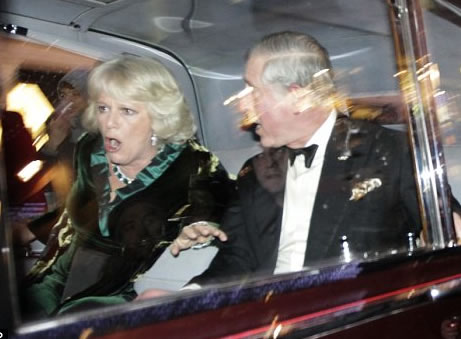 A rampaging mob in central London who call themselves students attacked Charles and Camilla's car with cry's of "Off with their heads". The 'students' should consider themselves lucky that they did not get a bullet in the head from the armed police in the car with the couple.