It's starting to look like the day of reckoning draws  near for GBP Sterling..
Edmund Conway, Economics editor of The Daily Telegraph writes..
Is this the start of a Sterling crisis?

So, is this a Sterling crisis? According to Simon Hayes of Barclays Capital, you should define a currency crisis as a fall of around 25pc in value.

That didn't happen in the late 1960s under Harold Wilson and his devaluation; it didn't happen in 1976, at the time of the IMF loan, nor did the fall amount to that much after Britain was ejected from the ERM in 1992.

In fact, the only fall big enough to fulfil this definition of a currency crisis in the past 50 years was the one we saw over the past two years.

However, as I've pointed out, this was a "benign crisis". However, that does not stop it turning nasty – and on that basis the experience of the past 24 hours is not encouraging
If you had transferred your money from any GBP Sterling into Gold as we have been urging everybody to do, your Gold would be up by 7% in the last month, when priced in Sterling. But as we keep saying, Gold hasn't gone up, every single Pound coin in the UK is now worth the equivalent of 93 pence, in less than a month.
Sterling's fall is due to fears of an election stalemate between Labour and the Conservatives and the realisation that whoever wins the election, there will have to be severe fiscal measures (in terms of cutting spending and raising taxes) in order to steady the ship that is UK Plc. UK government deficits are high and rising and this is causing concern in bond and currency markets about how these significant deficits will be funded.

There is growing doubt as to whether there will be sufficient international appetite for the scale of government debt to be issued in the coming months and years. Markets fear that the UK government will be forced to create more sterling in order to buy their own government bonds and that quantitative easing and debt monetisation may continue for longer than expected. The Bank of England continuing to punish savers with near zero percent interest rates at 0.5% while inflation appears to be looming is also contributing to concerns about a new sterling currency crisis.

Given the degree of macroeconomic risk facing economies internationally and the unprecedented fiscal and monetary responses, we are likely to see further volatility in currency markets and there is a the real risk of an international currency crisis.
Sterling gold has reached new record nominal highs over £750/oz as concerns of a sterling crisis have seen sterling fall versus most major currencies and gold.

[ BuyGoldSilver edit £760 in overnight trading actually]

Sterling's previous record nominal gold high was on the 3rd of December 2009 at £735/oz (inter day) and £731.59/oz (London AM fix).

Sterling has fallen by more than 7% against gold and 6.4% against the dollar in the last month. Since the start of the year sterling has fallen by more than 10% against gold and by some 7.5% against the dollar (see Performance Table below).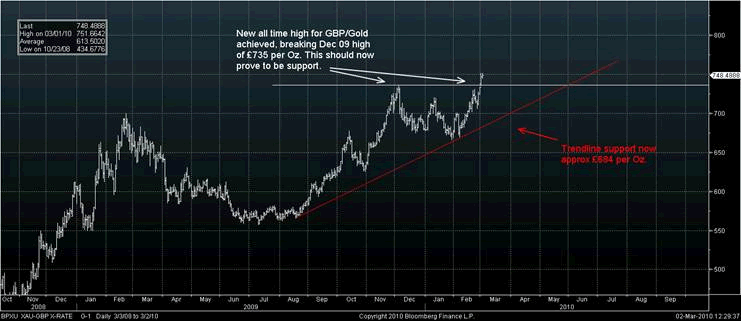 And on the same day Gold also broke free of it's inverse relationship with the US Dollar, ie
THEY BOTH WENT UP..  ..from the mighty ZeroHedge
Submitted by Tyler Durden on 03/02/2010 11:09 -0500

No, you are not reading that chart wrong. Gold just surged to near two month highs, hitting $1130/oz, or $12 higher, even as the dollar is green for the day. The fiat currency inferno is picking up, as traders refuse to keep their money in anything but gold or dollars – proof of tungsten gold counterfeiting is not helping the gold shorts. From the 2010 lows, the currency devaluation "safety trade" has been Gold and the USD, in a ratio of 5-1!

Intraday chart…

And from the February market lows: note the relative performance of the DXY and GOLDS:
Holders of US Dollars should also be paying attention because this is also coming your way very soon.
Whether it's Pounds Sterling, US Dollars or Euros, you should be swapping it for Gold, RIGHT NOW because only the yellow metal can protect you from this and preserve your wealth..
Do it, and do it now, – protect your wealth – buy gold